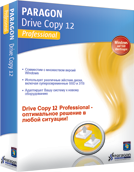 Publicer
:
Paragon Technologie
Size
: 40.2 MB
Price
: Trial | $
39.95
$31.96
OS
: Windows XP/Vista/7/8
Performs any migration, no matter the source or target.
- Fast migration to new HDDs, SSDs, new hardware and virtual machines
- Wide migration options (P2P, P2V, V2P and V2V)
- 2TB+, SSD and AFD drives support
- Support for major virtual machines
Upgrade your hard drive to a new one
Clone your hard disk to a larger drive and have it boot without reinstallation.
Take advantage of SSD
Migrate OS to SSD wizard performs fast and safe Windows migrations to new storage devices (HDD or SSD) and even downsizes to smaller capacity drives.
Migrate to new hardware
When upgrading to new hardware, clone your existing hard drive to the new one and adjust the OS to make it bootable again.
Migrate to new hard drive via interim backup
Migrate your notebook to a new hard drive the easy way - create a backup archive of your system, replace your old HDD, then restore your system to the new one.
Create a virtual clone of your PC
Create a virtual clone of your PC, including operating system, drivers and settings, all your applications and files. Save it to the USB hard drive and use it on another computer, just as if you're working from your own PC.
Continue using your old PC in a virtual environment
Migrate to a new hardware platform by making a virtual clone of your old system. Take advantage of an up-to-date computer while still having the option to work with your old applications.
Safely Evaluate New Software
Avoid negative effects of software installation by creating a virtual clone of your current physical system to evaluate new software before making it permanent.
Use Multiple Operating Systems on One PC
Virtualization allows multiple operating systems on one PC, including Windows, Linux, and Mac OS X.